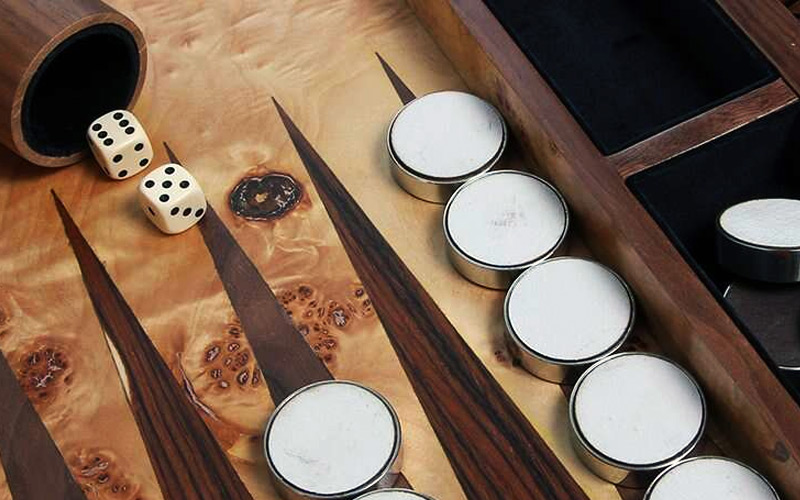 If you're new to backgammon, you might be curious about the origins of this captivating game, which has evolved into a worldwide phenomenon with numerous books, websites, and tournaments. In this post, we will take you on a journey through the history of backgammon, starting from the 1920s when it began to take on its modern form.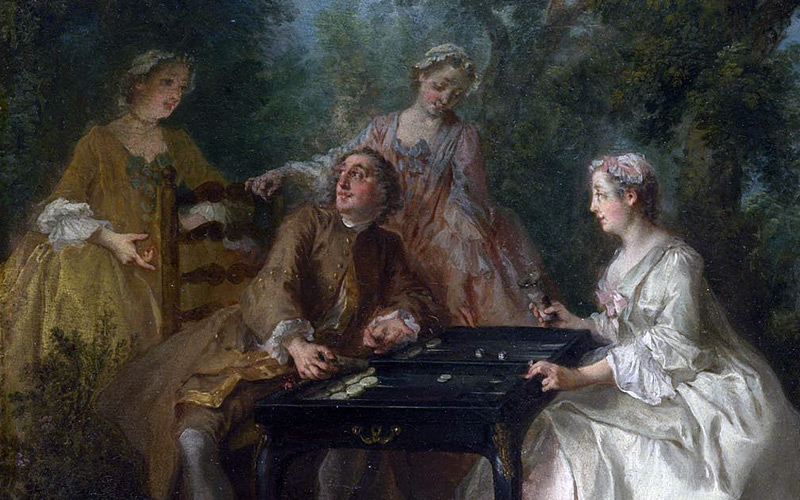 The Rise of Backgammon (1920-1926)
During the early 1920s, backgammon experienced a significant surge in popularity, mainly centered in New York City. This newfound craze was fueled by two key innovations: the invention of the doubling cube and the introduction of a variant called "chouette," both of which emerged shortly after World War I. As word spread, the game's appeal gradually expanded beyond New York, capturing the attention of enthusiasts across the nation.
Modern Backgammon Makes its Mark (1927)
In 1927, Henry Holt and Company published "Modern Backgammon," a 110-page book that marked a turning point in the game's history. This book not only described the doubling cube and the chouette but also laid the groundwork for backgammon's continued growth. While it may have been a modest success initially, "Modern Backgammon" set the stage for future developments.
Backgammon in the Spotlight (1928-1940)
Throughout the late 1920s to the 1940s, backgammon maintained its upward trajectory in popularity. Articles about the game began appearing in sophisticated magazines of the era, such as Vanity Fair and Collier's, further contributing to its widespread appeal. During this period, around 20 more books on backgammon were published, most of which targeted beginners and newcomers to the game.
The Dark Times (1940-1964)
The advent of World War II had a profound impact on backgammon, causing it to recede from the national scene. The game was preserved only in a few private clubs in cities like New York, Miami, and London, where devoted players kept its flame alive.
The Resurgence Begins (1953)
In 1953, a ray of hope emerged with the first regional backgammon tournament, the Indiana Open, held in Indianapolis. While this event was the first spark of a comeback, it wasn't until later that the game would regain its former glory.
The Turning Point (1964)
The pivotal moment in backgammon's history arrived in 1964 when Prince Alex Obolensky recognized its potential for mass popularity. Leveraging his connections in the private club circuit, he organized the first major backgammon tournament in the Bahamas in March of that year. The inaugural event attracted 32 players, including Nick Sargent, who was considered the best player in the world at that time. Charles Wacker of Chicago emerged victorious, defeating Porter Ijams of New York in the finals. The tournament received significant attention, and in May, Sports Illustrated featured a lengthy article about the event, undoubtedly influenced by Obolensky's efforts.
Backgammon's Renaissance (1965-1970)
Building on the success of the 1964 tournament, Obolensky continued to nurture the backgammon scene. The Bahamas tournament returned in 1965, doubling its attendance to 64 players, with John Crawford claiming victory. Obolensky initiated more tournaments, establishing a circuit that spanned the 1960s. The inclusion of Hollywood celebrities like Lucille Ball, John Wayne, Polly Bergen, and Jim Brown in these events generated additional publicity and attracted more participants. Tournaments were now drawing fields of 64 to 128 players, and a select group of top players, including Tim Holland, Oswald Jacoby, John Crawford, and Barclay and Walter Cooke, emerged as prominent figures in the backgammon world.
The World Championship of Backgammon (1967)
In 1967, the first-ever World Championship of Backgammon took place in Las Vegas, and Tim Holland emerged as the victor. Holland went on to win the second World Championship the following year. After a brief two-year hiatus, the tournament resumed in 1971, and once again, Holland claimed the title, securing his place as one of the game's greatest players.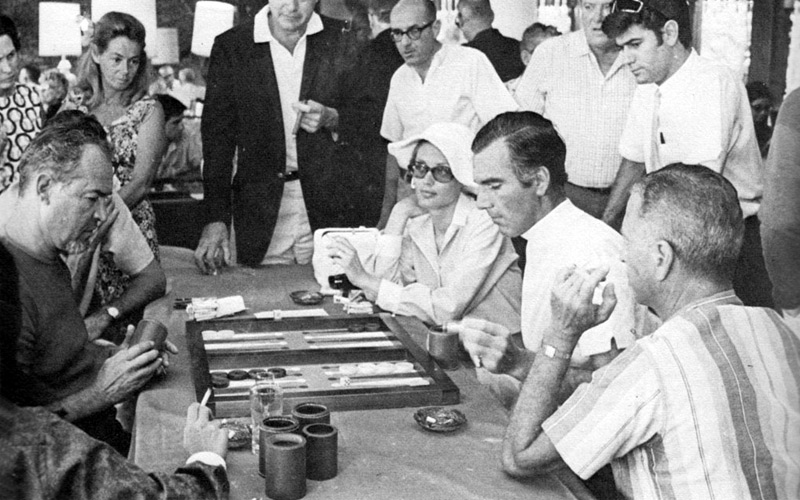 A New Backgammon Era (1970)
The year 1970 marked a significant milestone in backgammon history with the publication of "The Backgammon Book" by Oswald Jacoby and John Crawford. This book, unlike its predecessors, was much more advanced, becoming the de facto standard text for backgammon enthusiasts worldwide.
Stay tuned for the next part of our blog post, where we'll continue the journey through the history of modern backgammon!
The Rise of Backgammon's Popularity (1970-1976)
With Hugh Hefner's endorsement and promotional efforts in Playboy, backgammon's popularity soared to new heights. Celebrities and pros playing chouette at the Playboy Mansion, accompanied by admiring nude beauties, caught the attention of young men everywhere. In New York, a group of math enthusiasts and games players embraced backgammon, gathering at places like the Olive Tree Café and Singapore Sam's for friendly yet high-stakes chouette matches. The Mayfair Club and the Racquet and Tennis Club became epicenters for competitive chouette action. As the game gained traction, budding stars emerged, including Paul Magriel, Stan Tomchin, Chuck Papazian, and Mike Senkiewicz, all of whom were former chess players. This new, highly aggressive, and complex approach to the game became known as 'pure style.'
Backgammon Spreads to Europe (1970-1976)
Tournaments began to spread to Europe during this period, with a group of dominant European players making their mark. Led by Joe Dwek and including names like Philip Martyn, Lewis Deyong, and Kumars Motakhasses, the European backgammon scene experienced rapid growth. Clubs sprouted across both the US and Europe, fostering a new class of young touring professionals. Major tournaments were now attracting over 200 players, consisting of celebrities, affluent amateurs, and seasoned pros. National magazines started to feature more articles about the game, further fueling its popularity.
The Backgammon Scene Booms (1972)
A significant moment in the history of backgammon occurred in 1972 when Harper's published an article by Jon Bradshaw, describing the booming backgammon scene in New York. The article included the first ranking list of top players, based on an informal poll conducted at New York's Mayfair and Racquet & Tennis Club, as well as London's Clermont Club, a gambling hub for British backgammon. Tim Holland secured the top spot on the list, followed by Barclay and Walter Cooke, Paul Magriel, and Claude Beer. The list was heavily influenced by New Yorkers (10) and Londoners (4), with Oswald Jacoby of Dallas being the only outsider at #11.
The First Invitation-Only Master's Tournament (1975)
In 1975, Prince Alex Obolensky organized the first invitation-only Master's tournament at his club, Oby's, in Miami. The event brought together twelve of the top American players, with Chuck Papazian emerging as the winner after defeating Arthur Dickman of Miami in the finals. Despite being somewhat forgotten today, Dickman was an outstanding player and was among the world's best for a considerable time, securing runner-up positions in two consecutive World Championships in 1974 and 1975.
The World Championship and Magriel's Influential Book (1976)
In 1976, the World Championship moved from Las Vegas to Paradise Island in the Bahamas. Baron Vernon Ball claimed victory in the inaugural event held at the Paradise Island Casino, sponsored by Philip Morris. This year also saw the publication of Paul Magriel's seminal book, "Backgammon," which quickly became known as the 'Bible of Backgammon,' due to its monumental impact on the game and its strategies.
Stay tuned for the next part of our blog post, where we'll explore the peak of the backgammon boom from 1977 to 1981 and the subsequent years as interest gradually decreased but remained well above the pre-1976 period.
The Peak of the Backgammon Boom (1977-1981)
During this period, backgammon tournaments were flourishing worldwide. One-night events at local clubs easily attracted 150-200 players, signifying the game's immense popularity. A new generation of top players emerged, including Roger Low, Jason Lester, Billy Horan from New York, Kent Goulding from D.C., Mike Corbett from Florida, Malcolm Davis, and Sandy Lubetkin from Texas, and Nack Ballard and Nick Maffeo from California. Backgammon gained further recognition when The New York Times introduced a weekly backgammon column by Paul Magriel, running for four years and engaging enthusiasts from all walks of life.
In 1978, the World Amateur Championships in Las Vegas set a new attendance record with 652 players, excluding professionals, vying for a whopping $380,000 first prize. Barclay Cooke, a prominent backgammon figure, published "Paradoxes and Probabilities," an intriguing and somewhat controversial exploration of the pure style of play. Meanwhile, Paul Magriel showcased his expertise by winning the World Championship, defeating Kal Robinson in the finals.
The following year, in 1979, the World Championship moved to Monte Carlo in July, attracting a record 309 players in the Championship Division. Luigi Villa secured victory, defeating Jeff Westheimer of New York in an intense final match. Additionally, Villa faced off against Hans Berliner's Gammonoid, the first intermediate-level backgammon program, resulting in a resounding 7-1 win for the machine. Major publications, including Sports Illustrated and the Atlantic, featured articles on Paul Magriel, further elevating his status as a backgammon authority.
The Evolution of Backgammon (1982-1987)
As the 1980s progressed, interest in backgammon remained high but began to wane from its peak levels. Nevertheless, numerous tournaments still drew substantial crowds, although attendance typically hovered at around 60% to 70% of the boom years' figures. Despite this slight decline, new stars continued to emerge in the United States, with Joe Sylvester of Michigan being a standout player during this period.
In 1984, Kent Goulding organized the First U.S. Invitational Championship in Washington, D.C., featuring 16 of the top American players. Mike Corbett of Florida claimed victory in the finals, defeating Sandy Lubetkin of Texas, solidifying his place among the game's elite.
New Blood in Europe (1987-1988)
In the late 1980s, backgammon started gaining traction in Germany, Denmark, and other Scandinavian countries, breathing new life into the European backgammon scene. Jerry Grandell of Sweden secured an impressive second-place finish at the Monte Carlo World Championship in 1987, while Philip Marmorstein of Germany claimed victory and the coveted title of World Champion in 1988.
The World Cup of Backgammon (1988)
In 1988, Kent Goulding organized the first World Cup of Backgammon in Boston. This biennial tournament attracted a diverse field of 46 players from around the world, competing in long matches ranging from 25-point first-round games to a grueling 41-point final match. After an intense week of play, Joe Sylvester of Michigan emerged as the victor, defeating Ray Glaeser of New Jersey in a hard-fought final with a score of 41-31.
Advancements in Artificial Intelligence (1990-1991)
In 1990, a significant breakthrough occurred with Dr. Gerry Tesauro from the IBM Labs in White Plains completing work on TD-Gammon 1.0. Utilizing a novel artificial intelligence technique called neural net programming, TD-Gammon showed immense promise in its test matches against top professionals. In 1991, TD-Gammon 2.0 was released, proving to be roughly on par with the best human players of that era.
Pioneering Publications and European Emergence (1991-1994)
In 1991, Kent Goulding and Bill Robertie launched "Inside Backgammon," a dedicated magazine focused on problems, analysis, annotated games, and theoretical discussions. The magazine enjoyed a successful eight-year run before eventually ceasing publication in 1999. Meanwhile, a new crop of formidable European players began to make their mark in the backgammon world, with names like Peter Jes Thomsen, Gus Jacobsen (later Hansen) of Denmark, and Johannes Levermann, Dirk Schliemann, and Michael Meyburg of Germany rising to prominence.
The Age of Commercial Programs (1994-1997)
In 1994, the first commercial backgammon program using neural-net technology, Jellyfish 1.0, was released. Though respected for its solid play, Jellyfish exhibited some weaknesses in the ace-point/back game area, leading to somewhat conservative opening play. However, Jellyfish continued to evolve, and its subsequent versions, Jellyfish 2.0 and 3.0, demonstrated significant improvements in playing strength.
In 1997, an epic match took place in Dallas, pitting Jellyfish 3.0 against two formidable human players, Mike Senkiewicz and Nack Ballard. After a grueling 600-game session, the result was dead even, affirming that Jellyfish 3.0 played at a world-class level. This year also witnessed Jerry Grandell's victory at the World Championship, earning him the nickname 'Jerryfish' due to his diligent study of Jellyfish's playing style. Kit Woolsey's "New Ideas in Backgammon" became the first major book to incorporate Jellyfish analysis.
The Snowie Era (1998-2003)
In 1998, Snowie 1.0 hit the market, featuring a slight improvement in playing strength over Jellyfish and a superior user interface. The World Cup series culminated in 1998, with Howard Ring of Chicago claiming victory over Johannes Levermann of Germany, marking the end of this prestigious tournament series.
The poker boom began in 2003, taking some players away from backgammon and leading to a 30% to 40% drop in tournament attendance compared to the vibrant 1990s.
New Challengers and Software Advancements (2006-2016)
Strong Japanese players began to emerge on the backgammon circuit in 2006, challenging American and European dominance. Masayuki Mochizuki, known as Mochy, won the World Championship in Monte Carlo in 2009, signaling Japan's presence in the international backgammon scene. Other Japanese players like Takumitsu Suzuki in 2011 and Akiko Yazawa in 2014 further solidified Japan's standing.
In the software realm, Extreme Gammon entered the market in 2011, quickly becoming an industry standard with its comprehensive features and blazing speed. A resurgence in tournament attendance occurred between 2014 and 2015 after a relatively quiet period. Additionally, a new wave of books targeting beginners, including "Conquering Backgammon," "Backgammon for Losers," and "Backgammon: From Beginner to Badass," brought fresh interest to the game.
In 2016, the New York Metropolitan Open set a modern record, attracting more than 40 players in its beginner division, signaling a rising popularity of backgammon.
A Thriving Backgammon Community (2017)
The backgammon community continued to flourish in 2017, with numerous tournaments and events held worldwide. Players from different corners of the globe converged to compete in both local and international competitions. As the game gained more traction, online backgammon platforms witnessed a surge in popularity, providing enthusiasts with an accessible and convenient way to play and improve their skills.
Technological Advancements and AI Dominance (2018)
In 2018, backgammon witnessed significant technological advancements. Backgammon software and artificial intelligence (AI) continued to evolve, raising the playing strength and analysis capabilities to new heights. Powerful AI bots became formidable opponents, challenging even the most skilled human players. These AI programs, such as Extreme Gammon, GnuBG, and others, not only became essential learning tools for players but also demonstrated their prowess by winning against top professionals in exhibition matches.
Backgammon in the Digital Age (2019)
The digital age continued to revolutionize backgammon in 2019. Online backgammon platforms and mobile apps provided players with the opportunity to engage in matches with opponents from around the world, fostering a global community of players connected by their shared passion for the game. Backgammon enthusiasts enjoyed the convenience of playing anytime, anywhere, and the virtual landscape became a hub for learning, practicing, and enjoying the timeless game.
Navigating Challenges (2020-2021)
The global pandemic in 2020 presented challenges for backgammon enthusiasts and tournament organizers alike. Many in-person events were canceled or postponed, leading to a shift towards online tournaments and virtual gatherings. Despite the disruptions, the backgammon community demonstrated resilience and adaptability, continuing to connect and play in the digital realm.
In 2021, as the world gradually returned to a sense of normalcy, in-person events and tournaments slowly resumed, rekindling the spirit of camaraderie among players. The love for the game persisted, and backgammon tournaments gained momentum once again, attracting a mix of seasoned players and newcomers eager to explore the world of competitive play.
A Renaissance in Backgammon (2022-2023)
The years 2022 and 2023 witnessed a resurgence in backgammon's popularity. The game experienced a renaissance as interest soared among players of all ages. Exciting developments and innovative initiatives brought fresh energy to the backgammon scene.
Online tournaments and global championships garnered attention from participants worldwide, allowing players to compete with opponents from diverse backgrounds. As technology advanced, streaming platforms and live broadcasts of top-level matches became increasingly common, captivating a wider audience and showcasing the strategic brilliance of skilled players.
In 2023, backgammon's appeal reached new heights, attracting mainstream media attention and further fueling its growth. Educational programs, workshops, and online resources continued to empower newcomers, promoting the game as a fun and intellectually stimulating pursuit.
The Timeless Legacy
As we look back on the history of backgammon from its origins in the 1920s to the dynamic landscape of the 2020s, one thing remains certain: the enduring legacy of this ancient board game. Its timeless blend of skill, strategy, and luck continues to captivate players and transcend generations. Whether played in friendly matches among friends or fiercely contested in high-stakes tournaments, backgammon continues to unite players from all walks of life, forming a global community that cherishes this remarkable game.
As we venture into the future, the evolution of backgammon will undoubtedly continue, as new players, technology, and innovations shape the game's destiny. So roll the dice, make your moves, and revel in the enduring magic of backgammon!