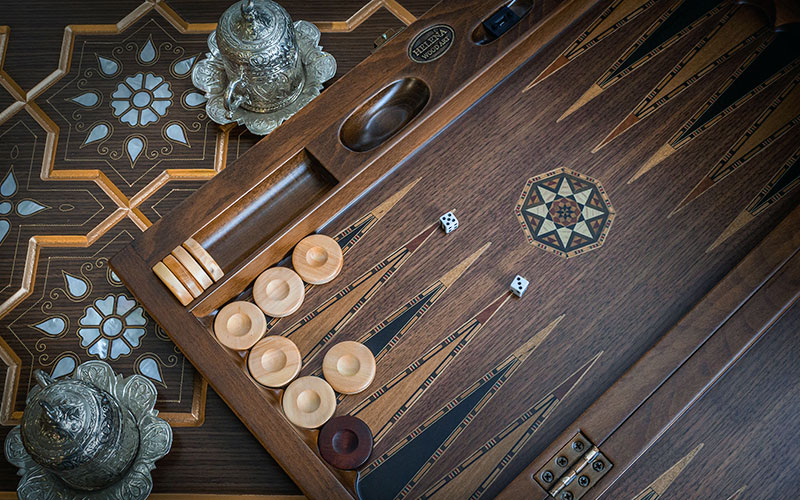 If you want to provide a backgammon set in the real world, what do you consider? The design or material that it is made of? This is the question you may encounter when playing online backgammon!
The description of the word "The best" has different criteria for each person, you came across numerous articles and topics that had introduced you to the best in each field and good reasons are choosing them. We will discuss the best list of backgammon-related sites in this post that each of them offers unique features apart from other backgammon software that you have installed on your mobile or computer only for entertainment games.
Nextgammon
Nextgammon is a web-based platform that has recently joined the ranks of online backgammon websites. Nextgammon has raised every player's expectations by paying attention to the details and the quality. It is possible to play for free/money with others from all over the world.
On the Nextgammon all games will be analyzed instantly to give you an overview of your game, so you can see what moves you made incorrectly and suggest the correct alternatives, playing skills for checker or cube, useful information about cube decisions, luke rating, etc. Nextgammon will hold free and paid tournaments for all players with various prizes. If you do not have enough time to participate in the competitions, you will experience paid games to win prizes to test your luck and skills. You can also play other backgammon variations including Nackgammon and Hypergammon with instant analysis for free.
The interesting point of this platform is its ranking system that you can see the top players from each country on the ranking page by applying the filter of the country you want in addition to showing the top players in general in a moment!
One of the features of Nextgammon is different designs of game pages have been placed in Nextgammon and it seems that it has provided many facilities to compete with other options. Surely we will see more development in the field of backgammon games by this platform in the future.
Supported Platforms: Anywhere * (Windows, Android, macOS, iOS)
Tournaments: Yes *
Instant Analysis: Yes
Players Rating: Yes
Match File: Yes
Spectator: Yes
* Nextgammon is a PWA (Progressive Web App) that behaves like a native application and also can be installed on your machine easily.
* The only website that offers Sit "n" Go tournaments at the moment.
247 Backgammon
If you are looking for a fast and smooth game, you will try 247 backgammon. After entering, you will encounter one of the computer bots with a few simple clicks and there will be the possibility of bot rank, the extent of the game difficulty, the color of the beads choosing, the existence of the cube, etc ….
In addition to backgammon, you can also play sudoku at 247backgammon. Do not worry if you start a game and fail to finish it. It is because your game is intact even if you refer to it a few months later and you can continue it! Of course, 247 Backgammon is not a good option for people who are looking to improve their skills! Amateur players need to analyze their moves and games to improve their skills. On the other hand, professional players explore analysis to perform various matches and exercises. It is, nevertheless, ideal for spending a short time and merely for a friendly game in an afternoon.
Supported Platforms: Anywhere (Windows, Android, macOS, iOS)
Tournaments: No
Instant Analysis: No
Players Rating: Yes
Match File: Yes
Spectator: No
Backgammon Galaxy
Backgammon Galaxy is one of the online backgammon websites that has attracted many audiences. Galaxy Backgammon uses the eXtreme Gammon Analysis for its users and therefore the scoreboard section can be an exciting section to improve your skill.
If you have enough time, you will spend your free time here even by watching other people's games. Backgammon Galaxy has provided a platform for people from all over the world to play together, but registering and participating in tournaments, especially paid tournaments, is not easy and much popular.
Supported Platforms: Anywhere (Windows, Android, macOS, iOS)
Tournaments: Yes
Instant Analysis: Yes
Players Rating: Yes
Match File: Yes
Spectator: Yes
Heroes Backgammon Studio
At first, when you enter Backgammon Studio, you feel like you are in a spaceship! A sound played and welcomes you with a spatial voice and you will face a world of different keys. You may be a little confused, but do not worry.
Backgammon Studio is not that difficult so you can not play it. Heroes Backgammon Studio, as its name suggests, is a place in which great players can compete with one another and we see various competitions from all over the world there. Although its appearance reminds one of the early days of the computer invention, it instead offers you admirable possibilities. It shows the analysis when playing the games and for each move. If a player stops doing his move, he will show it to the opponent which is interesting, It induces a sense of face-to-face play to the other party.
You can also download your match file after finishing the match. The point that you need to keep in mind in the studio is that you have to compete with bots to win top titles! If you do not have enough confidence to play with professionals, you will practice here and improve your skills.
Supported Platforms: Anywhere (Windows, Android, macOS, iOS)
Tournaments: Yes
Instant Analysis: Yes
Players Rating: Yes
Match File: Yes
Spectator: Yes
VIP Backgammon
VIP Backgammon is a better choice than 247 backgammon. In VIP backgammon you can play against the computer on a sleek, wood-style board. The choice to double your score exists here too.
Keep in mind that competitions demand chips, which you collect from each session you play. And how much you earn depends on how well you perform against your opponents, whether real or AI.
This platform is a community where you can set up a profile, build up your rank, and go head to head with backgammon fans. Of course, the better you get, the more exciting each game becomes.
Supported Platforms: Anywhere (Windows, Android, macOS, iOS)
Tournaments: Yes
Instant Analysis: No
Players Rating: Yes
Match File: No
Spectator: No
iTavli Backgammon
iTavli is another site that offers all online backgammon games and supports play on iOS and Android mobile devices. The system has a variety of variations in backgammon like plakoto, fevga, gul bara, acey ducey, and more. This is certainly a unique feature not provided by a lot of the other online backgammon websites.
Unfortunately, although the beach backdrop is very cool, the actual backgammon board on the screen is very tiny and honesty is a kind of a pain to play on compared to some of the other high-quality platforms on this list.
In conclusion, although this list is very robust, the interwebs give far more choices. Don't forget that backgammon is also a game you can play live so don't hesitate to take out your board or start a local community club. May the dice stay with you.
BKGM
Bkgm.com is not a platform for playing backgammon online but by visiting Bkgm you can learn the game and read various articles.